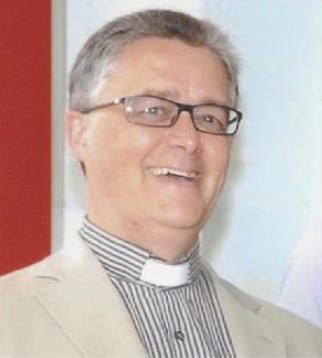 Greetings sisters and brothers in Christ – I'm Reverend Alan and what a privilege it is for Michele and I to move to the Vale of Stour to live and serve in this area with you.
I am conscious that we are here because of Reverend Peter's sad passing and our prayers are with Felicity and her family. But I am also grateful to the district chairs, who have prayerfully created a good and purposeful match, so I look forward to what God has in store for us.
It will take a while for me to visit the whole circuit and see your wonderful churches. In the meantime I thought this greeting might make a start in the process of getting to know one another.
So how about me in seven words:
Minister – passionate about Jesus and what it means to be a Christian called a Methodist.
Husband – for over 30 years so my wife deserves a medal.
Father – of two wonderful girls living and working in London.
Enthusiast – for people, life, the church and what God can achieve in us if we have faith!
Imperfect – therefore a lover of God's grace and always in need of forgiveness.
Musician - who enjoys all forms of music from orchestra, to organ, to brass bands and rock bands!
Mathematician, teacher and engineer for 24 years before I entered ministry...
As I arrive we also welcome Martyn Filsak - our Local Lay Pastor – who joined us in the autumn and you will have heard the wonderful news that, despite the national shortage of ministers, we were matched in stationing and will welcome the Reverend Helen Croft in September.
Meanwhile - our situation is a little unusual and in this transition period we will need to be graceful and patient with one another. Future plans for pastoral charge have already been approved by the circuit meeting and whilst Ruth is on sabbatical Martyn and I will together look after Kingswinford, Providence, Brierley Hill, Lawrence Lane, Overend and Dudley Wood - then in September everything resolves itself.
I must express deep thanks to Ajay and Ruth as acting superintendents, and to Beatrice, our circuit stewards and circuit leadership team for the amazing job they have done in this interim period - keeping the circuit on track, successfully filling the post of Local Lay Pastor and producing a profile that has enabled Reverend Helen to join us.
By God's grace all will be well and above all with these extra resources I hope that we may be able to re-establish some rhythms to circuit life such as a regular pattern of Holy Communion and All Age services in our churches.
In the midst of all this we find ourselves debating same-sex relationships and the Methodist report: God in love unites us. Whatever your understanding or position on this matter I ask you to join me in praying that we may find ways to debate this important issue whilst not letting it divide us.
So I look forward to meeting you in person and to hearing your faith story as together we seek to see and give thanks to God for being present with us in the mess and joy of life. To help with this I will seek to lead worship across the whole circuit and in the short term I will arrive early to my evening services in the coming months to offer 'tea and talk' with the super… please watch out for this near you.
Until then - in the words of the Psalmist:
May our steps be made firm by the Lord who delights in our way and though we stumble, we shall not fall for the Lord will hold us by the hand.
(Psalm 37:23-24).
May the peace of the Lord be with you...
Rev Alan
Pastoral Responsibilities
(with Mr Martyn Filsak liaising and assisting)
Contact
Availability
Sunday
Monday
Tuesday
Wednesday
Thursday
Saturday
 
(normal day off and study day - Friday)