17th March 2020 : Please click here for a formal communication concerning the ongoing Coronavirus situation in the UK, from The Methodist Church in Great Britain and the Vale of Stour Circuit.
----------
Christianity - what's it all about in the face of Coronavirus
Why not explore...
There is help here, and good news for all.
----------
Please click here for a letter from the President and Vice President of the Methodist Conference,
a personal message from the President, the Revd Dr Barbara Glasson
about racism in our communities,
an official statement from the Methodist Church in response to the brutal killing of George Floyd,
and a call from Methodist Faith Leaders call for a green recovery.
----------
(Links updated Saturday 17th October)
Please click on any of the links below, to go to...
------
We trust and pray that these links may prove helpful, beneficial and a source of comfort for you in this uncertain time.
Please be aware that these links will take you to external sites, and although they have been checked, the Vale of Stour Circuit is not responsible for their contents.
---
CIRCUIT NEWS
Superintendent Minister's VoS Circuit Letter Sept 2020 pdf, courtesy of Rev Alan Combes
----
Rev Helen Croft's Welcome Service
Due to social distancing, Rev Helen Croft's Welcome Service at Brierley Hill on Sunday 6th September will be by invitation only : BUT the service will be filmed and made available a few days after on the Circuit Website Virtual Player which can be found here:
So watch out for that….
----
Bible Study Challenge
Lots of people have said how much they would appreciate daily Bible Study Readings… so please click here
for an advanced list you may enjoy, provided by one of our circuit Churches - Kingswinford.
The readings follow the lectionary readings on the Methodist website "A Word In Time".
Beginning this coming Wednesday. 8th July, there will be a virtual coffee and a chat at 10:00am to share your thoughts about the week's readings, and all are welcome to log in and attend.
----
Rev Josephine Soon's Reception into Full Connexion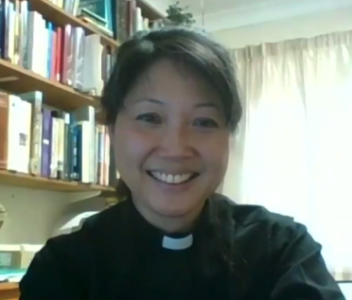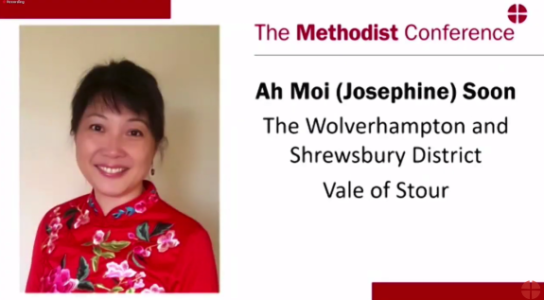 The Vale of Stour Circuit rejoiced today - Saturday 27 June - to Rev Josephine Soon approaching the end of her journey to ordination.  In a service broadcast to the nation she was 'received into full connexion'.
Being received into Full Connexion is an amazing moment.  People from all around the country elected as representatives to Methodist Conference, those present to support the ordinands and representatives from the world wide Methodist Church, stand together to affirm the call of God to each ordinand.  In particular conference recognises that this call has been tested over time and by God's grace, they are now counted as worthy.  This moment welcomes the ordinands into ministry within the Methodist Church and deems them  ready to be ordained as a presbyter or a deacon.
Normally this would be followed on the same day by an Ordination Service but due to Covid-19 other plans will have to be made.
Rev Alan Combes
Methodist Minister
Superintendent - Vale of Stour Circuit
----
Please see the Spring Newsletter pdf, from Claire Biggs, our Children And Families Worker
----
Vale of Stour Circuit Services and Prayer Meetings On-Line
~~updated~~
We are now able to provide a dedicated Vale of Stour on-line centre for activities such as services and prayer meetings.
See the Virtual Church tab for more information and technical details !
LIVE STREAM - please read carefully… thank you.
Dear Circuit
We are delighted to invite you to the VoSWorship LIVE STREAM on Sunday (18th October) at 6:30pm, lead by Rev Josephine Soon.  The service will be recorded and almost immediately available for those who wish to watch when more convenient.
Despite the recent government restrictions morning worship continues, so for those wishing to attend this Sunday, the following churches are now on the plan :
Brierley Hill 11:15am
Kingswinford 10:30am
Kinver 10am
United Lye 10:45am
New Road 10:30am
Overend 10:45am
Lawrence Lane 10:45am
Wollaston 10:30am
Dudley Wood 10:30am
Providence 10:30am
Gig Mill 10:30am
Amblecote Wordsley on the second Sunday of each month at 10:30am
Please ensure you follow the current government guidelines for everyone to stay safe, including social distancing, the wearing of face masks, the "rule of 6", and remembering to stay at home if you have a cough, temperature or if your sense of smell changes.
For anyone unable to attend in person, we attach a full Order of Service here for you to use at home.
Coffee and a Chat
On the live stream page you will see links to Coffee Rooms at the top.  These will be open / staffed after the livestreamed worship.
HOW To Find the Live Stream
For nearly all of you - especially those on computers / laptops, you just need to do what you normally do and in your web browser (eg Chrome, Firefox, Edge, Safari etc) go to: 
You will be redirected to the live stream which will begin at about 6:25pm with an informal welcome and notices.
Problems - particularly phones and tablets?
Try this link instead:
IF you find yourself inside VoSWorship there will be a steward on duty there to help you find your way to the live stream.
Clicking the link above should get you there.
Thank you for sharing this journey and bearing with us along the way.  And thanks to all those working in the background.
We look forward to seeing you on Sunday as we continue to pray for our communities, the church and ourselves.  
God bless
Alan and the Team
---
NEW LINKS
Ministers' and Preachers' Reflections, Sermons, and Orders of Service
~~updated~~
18th October order of service pdf, courtesy of Rev Josephine Soon
4th October order of service pdf, courtesy of Rev Chris Watson
---------------------------------------------------------------
Health, Guidance, and Support Resources
 
-----
NSPCC website - advice for you and your family with coping emotionally
-----
-----
NHS site - tackling Working From Home
NHS site - looking after children and young people during COVID-19
-----
Poster for a Black Country Welfare 24-7 Support Line, showing links to
Sandwell Healthy Minds - 0303 033 9903
Wolverhampton Healthy Minds - 0800 923 0222
Black Country 24-7 Mental Health Support Line - 0345 6460827
and
Improving Access to Psychological Therapies :
- Dudley IAPT - 0800 953 0404
- Walsall IAPT - 0800 953 0995
-----
Run by the Christian Enquiry Agency and part of Churches Together In England.
Visitors to the site can read a number of well written articles or watch short video that may answer their questions.
It's worth a browse and visitors can then ask questions, request a free copy of Luke's Gospel, or find a church from the site.  All this is available to your church website for free.
-----
The Joint Public Issues Team
The Joint Public Issues Team is found here -
- and is a great source of contemporary, relevant Christian commentary on the world today.
They are analysis group that looks at all kinds of political and justice issues from a Christian perspective and produce reports, videos and study materials : part funded by the Methodist Church and including Methodist staff
Stay Alert…to Justice
-----
Links for helping families dealing with children who are grieving :
-----
An excellent home-schooling resource
for those of you with older children/teens to help them through isolation.
Provided by Forward Thinking Birmingham NHS Women and Childrens' Trust
-----
URC On Line Resources During the Crisis including Daily Devotions
The United Reformed Church (URC) is offering regularly updated advice and resources from a variety of sources about the coronavirus (Covid-19) pandemic. Please follow government advice: stay at home, protect the NHS, and save lives. God is with us and being worshipped in creative ways around the denomination as churches are closed. 
The URC has produced a list of its churches providing digital services, available here
The URC Daily Devotions team is also offering a Sunday service in both written and audio formats, featuring a range of voices from around the denomination. Since 22 March, more than 1,000 people have signed up to bring the total number of Daily Devotions subscribers to a whopping 3,988. Sign up to the Daily Devotions here
---
While the Coronavirus situation persists, this page will contain useful links to :
We trust and pray that these links may prove helpful, beneficial and a source of comfort for you in this uncertain time.
Please be aware that these links will take you to external sites, and although they have been checked, the Vale of Stour Circuit is not responsible for their contents.