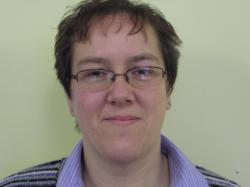 I joined the Vale of Stour Circuit in 2013, although it was not a long distance move.  In fact, I already consider myself a Black Country girl at heart, having lived in the region throughout my adult life - so I already speak some of the lingo.
As for my background, I was brought up in a Methodist family but have spent time in other churches and have a heart for ecumenical work.  My call to ministry has come after a legal career spanning several years but please don't ask me for legal advice as it is all now a dim and distant blur!  This is my first ministerial appointment, having left Queens College in Birmingham in 2013 and ordained at Conference in June 2015.  With a very busy schedule, I'm not sure I can recall what free time is but I like nothing better than to unwind over a good film or book or to go to the theatre (I love comedy and musicals) when time and money permit.
I have also discovered the joy of travel and have been blessed in the past couple of years to be able to visit a number of fascinating places and to meet some wonderful and inspiring people. I am ever in awe of what an amazing world we live in and how awesome our creator God is. Yet I am also ever moved to lament at the injustices of the way, as a human race, we sometimes treat our earth, its resources and our sharing of them.
I am married to Nigel with 2 sons, one living at home with us and the other living with his fiancée in Cambridgeshire.   I have a much bigger extended family in various parts of the world and I very much value family time and the rare opportunities we have to get together are very special.  I feel the same way about the church family, both gathered and dispersed and feel that hospitality to the stranger and outcast is at the core of Christian ministry.
I have also enjoyed the challenge of being Acting Superintendent for a time but am looking forward to handing over to our new Superintendent, Rev Alan Combes, on 18th January 2020!
Pastoral Responsibilities
Contact
Availability
Sunday
Tuesday
Wednesday
Thursday
Friday
Saturday
(usual day off - Monday)